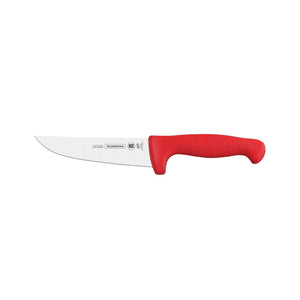 Professional Master 6" Meat Knife Red
Regular price
₱1,000.00
₱0.00
Unit price
per
Tax included.
Quality and durability for hardworking professionals. With cuttingedge technology, Tramontinas professional knives are always ready to jump into action and do beautifully well with any ingredient, cut, or recipe. Efficiency all-around. The incredible high quality of the blades is a result of a thermal treatment which consists of hardening (heating the blade), subzero (cooling from 50 to -196 degrees), and tempering (increasing the steel elasticity) for a longer and more efficient life. The anatomical and ergonomic textured polypropylene handle, is directly injected on the steel bolster, ensuring a comfortable, safe use. The antimicrobial protection prevents and reduces the growth of bacteria and fungi. This technology is incorpotated during the handle manufacturing process and lasts throughout the product's life, but it does not eliminate the need to clean it thoroughly.
Product Dimensions (LxWxH):301x 54x 22 mm.
Box Dimensions(LxWxH): 300x 51x 23 mm.
Thickness: 2.5mm
Material: Stainlees steel flexible blade DIN 1.4110. / Polypropylene handle.
---